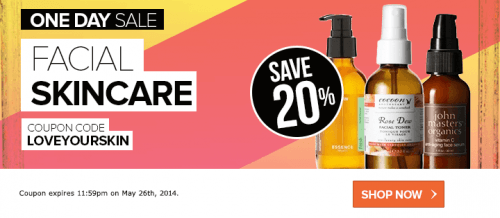 Shop at well.ca today and save 20% on all the products facial skin care with the coupon code at checkout LOVEYOURSKIN. This coupon code is for new and old customers and works on the products included in their weekly sales including:
Save 20% on Dr. Bronner's

Save 15% on Aleva Naturals

Save 20% on Simply Natural

Save 25% Dove

Save 15% on cleansers, toners and moisturizers homes

Save 25% on St. Ives

Save 25% on Cliniderm SkincarVous can use this coupon code on skin care, BB cream & CC cream, tinted moisturizers, eye creams, face Spa Equipment and accessories, Facial (like acne and failure treatments, anti-aging, balms and ointments, masks and peels, microdermabrasion, night treatments, scar treatments) lip care (including lip balm) and Cleansers treatments.

C

lick here to see the complete list of sales well.ca this week.

If you are a new customer well.ca and you want to buy anything other than facials, use the coupon code ILOVESAVINGS and 'save $ 10 when you spend $ 40 or more (not including paypal orders and can not be combined with any other coupon).

Delivery is free when you spend $ 25 + with well.ca.